It's more than search. It's sales.
What good is a website if nobody can find it? To get your site in front of prospects, it needs to be visible in search engines. SEMbyotic provides search engine optimization (SEO) services to businesses looking to increase demand generation and fill their sales funnels.
A customer's sales journey often starts with a web search. Since your site can't convert sales if it can't be found, you need a clear, concise description of what you offer embedded within your site's organic search efforts; otherwise, prospects move on. Just as you wouldn't stop selling, your customers won't stop searching, so think of internet marketing as essential to your long term sales objectives.
Search has evolved, but keywords still matter.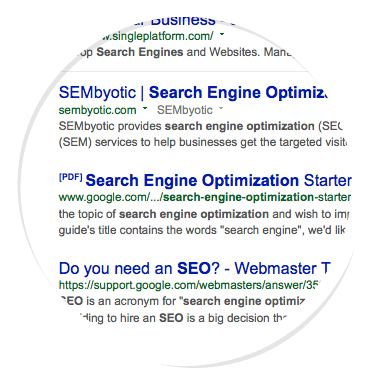 SEO (also known as natural, earned, or organic search engine optimization) involves achieving higher (non-paid) rankings for search queries within search engines like Google and Bing.
Your site won't optimize itself — even if it has built-in search optimization tools. You must make a deliberate effort to rank in search engines through keywords, title tags, and links pointing to your site (inbound links).
Search engine optimization is a noisy, crowded industry. It can be challenging to separate the SEO experts from amateurs. If a company guarantees a page 1 ranking, that should raise a red flag. How can anyone promise placement on a platform whose algorithm is a closely-guarded secret?
Level up with Search Engine Marketing
The terms SEO and SEM are not interchangeable. SEM covers the entire spectrum of search marketing, such as outreach activities, paid search, and non-paid organic search techniques.
In the early days, SEO was primarily focused on what could be controlled on your own site. Internet marketers did things like stuffing their pages full of keywords. Those who had the most keywords ranked higher, but prospects would click on a search result only to find a page filled with nonsense.
Search engines have since evolved, detecting legitimate content from content written purely to drive organic search rankings. Your site content and inbound links now determine relevance. That means digital marketers need to find ways to earn links back to their own sites through inbound marketing. Since SEO is no longer just about what you do on your own site, the term SEM was born.
The long game:
Our expert approach to Search Engine Optimization
Unlike other digital marketing companies, we know a hybrid of non-paid search engine optimization and paid search advertising is the best approach to SEM. We help you rank for terms that give you the best opportunity to reach your target audience.
How we help our clients:
Working with SEMbyotic on both strategy and execution has resulted in the best results our company has seen from these digital marketing efforts."
Senior Director,
Field Marketing & Demand Generation
A Silicon Valley Enterprise B2B Software Company
SEO
Keyword Research: Choosing the right keywords is the foundation for next steps.
Technical Optimizations: Making sure your site is technically optimized for search engines.
Onsite Optimizations: Updating page content such as meta tags, headings, body content, etc.
SEO Strategy: Are you going after the right keywords?
Content Strategy: Do you have a plan to generate the right kind of content?
Content Amplification: Maximize the impact of your content development efforts.
Website Audits: Is your site in good working order for both search engines and humans?
Competitive Research: What are your competitors doing online?
Measurement and Analysis: How is your site performing? What should happen next?
SEM
Link Building and Outreach: Are the right sites linking to yours? Are you generating shareable content?
Paid Search Marketing: Are you buying the right keywords? Is your PPC or paid search advertising optimized to give you the best ROI?
Social Media Marketing: Are you promoting your content to the right audience? Is it being shared?
Online Marketing Strategy: Do you know your audience and where they go for information?
We focus on getting you the right kind of traffic from search. SEMbyotic has the San Jose SEO experts you need to navigate the complexities of search engine optimization. Call us today to discuss your unique situation!
SEMbyotic: An SEO company providing ethical SEO services to Silicon Valley B2B and enterprise companies. Serving San Francisco Bay Area companies since 2002. In this picture: Plaza de César Chávez, downtown San Jose, California.