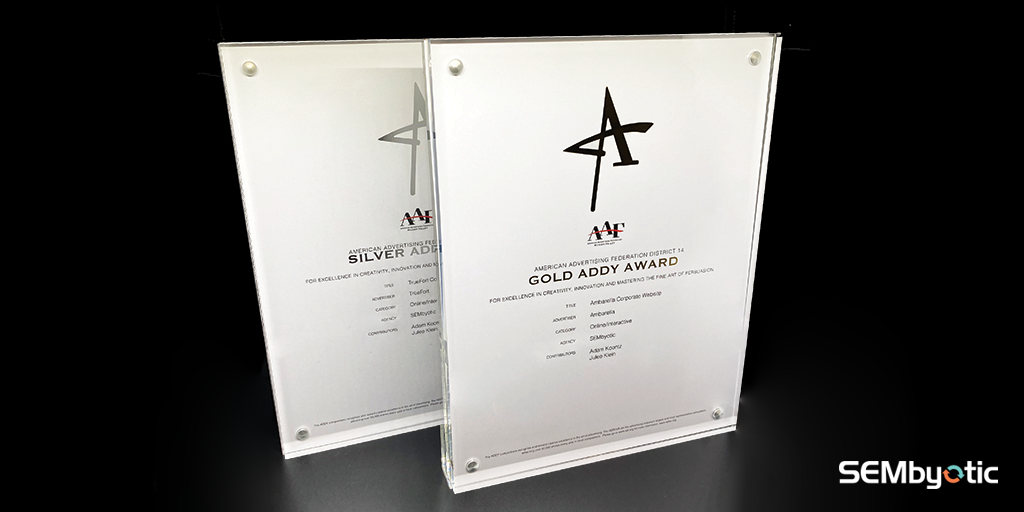 SEMbyotic Recognized at the 2020 Silicon Valley ADDY Awards
SEMbyotic Recognized at the 2020 Silicon Valley ADDY Awards
https://sembyotic.com/wp-content/uploads/SEMbyotic-ADDY-awards-website-design.png
1024
512
Julee Klein
Julee Klein
https://secure.gravatar.com/avatar/da3b744bf2230c1fe458e0c016db04f6?s=96&d=mm&r=g
The American Advertising Federation (AAF) Silicon Valley ADDY Awards is a long-running competition that honors excellence in advertising among Silicon Valley agencies, independent creatives, website designers and developers, photographers, illustrators, graphic designers, copywriters, and students.
The American Advertising Awards, or ADDYs as they are affectionately called, is one of the industry's largest creative competitions. Every year 35,000 professional and student entries are received for competitions offered through local AAF clubs – like the Silicon Valley chapter.
The American Advertising Awards recognizes and rewards the creative spirit of excellence in advertising.
The local American Advertising Federation (AAF) Ad Club ADDY Awards is the first phase of a three-tier, national competition. Local entrants all across the United States vie to win ADDY Awards and bragging rights as the very best-of-the-best in their local markets. The second tier is held at the district level, where local ADDY winners compete against winners from clubs in other areas in one of 15 of these regional district competitions. District ADDY winners move up to the third tier, the national stage of the American Advertising Awards.
SEMbyotic Earns Gold and Silver Website Design Awards
It takes hours of research and content planning before beginning the design and development phase of a website project. Unfortunately, we don't always have the luxury of a lengthy runway. Regardless of budgets and timelines, we always strive for award-winning design that addresses the target audiences' needs, meets the organization's marketing objectives, and exceeds our customer's expectations.
We're honored to be recognized and receive ADDY awards for not one but two of our recent website design and development projects in 2020.
Silver ADDY Website Design Award: TrueFort.com
The goal of the TrueFort website design and development project was to improve the overall look and feel, navigation, and content of the website and to position TrueFort as a best-bet application security solution startup for Wall Street and the media in time to capture attention around a fast approaching public relations event.
The SEMbyotic team completed the Truefort website redesign in parallel with a brand refresh that included updates to iconography, images, and color palette.
As a team, our focus for the project was to create a more visually engaging home page and provide a more modern intelligent, and intuitive user experience. The new site design and refreshed content told a more robust story around security, important product offerings, and the start-up's innovative solutions.
Despite the complexity of the product offering, the branding in development, and the tight timeline, SEMbyotic was able to spin-up award-winning designs in a matter of weeks. As a result, the client met their public relations deadline and began generating leads from their customer, investment, and media audiences from day one.
Gold ADDY Website Design Award: Ambarella.com
Like TrueFort, the goal of the Ambarella website design and development project was to improve the look, feel, navigation, and content and to reposition Ambarella as a more prominent player in the automotive and computer vision space.
Our focus as a team was on demonstrating their differentiation in their space. We set about the challenge of applying a "show" vs. "tell" design approach. So we incorporated the machine learning and AI concepts that are inherent in their product solutions into their website design.
Visitors to the new website can engage with the site and experience Ambarella's innovative biotechnology, machine learning, and artificial intelligence. These dynamic animated SVG design elements increased engagement with the website and time-on-page while reducing bounce rates.
What's Next for Us in 2021
We're always striving to produce truly award-winning work – whether that's website design and development projects, search engine marketing pay-per-click campaigns, or SEO engagements. We're actively working on another shot at the Search Engine Land Awards Best B2B Search Marketing Initiative title. Website design awards are great, but the real reward is in transforming our clients' digital marketing landscapes.