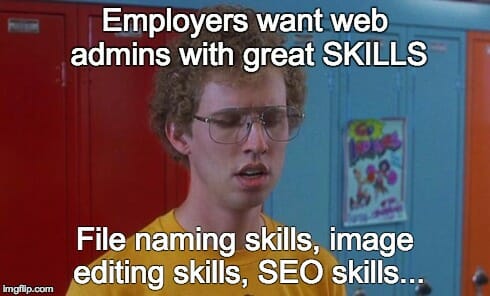 4 Skills You Won't Learn From Your Content Management System
4 Skills You Won't Learn From Your Content Management System
https://sembyotic.com/wp-content/uploads/web-adminstrator-skills.jpg
490
296
Adam Koontz
Adam Koontz
https://secure.gravatar.com/avatar/cdabc72036e4b722e8810040aab02661?s=96&d=mm&r=g
TL;DR
Don't change your URLs without properly redirecting the old ones.
Be sure to adopt proper file naming conventions so that your links won't break.
Size your images properly to prevent slow page load times and improper image rendering.
Add your title tags and descriptions for optimal display on search engines.
Bonus tip: Open links to other websites in new tabs (or windows).
And now the original article:
Content management systems for websites are invaluable for experienced and non-experienced web administrators alike. The goal of a good content management system is to allow users to easily maintain their own websites without needing to understand programming or server administration. However, there are still some basic fundamentals of website administration that you can't learn through trial-and-error within a tool like WordPress. Here are a few common mistakes that I hope we can help to prevent:
1. You change URLs without considering SEO and bookmarks
When you publish a page, search engines pick up that link so that it knows where to send users should they find you within a search engine. Your visitors can also bookmark to your link so that they can find it more easily in the future. However, when you change your link, even if it's just one character, those links in the search engines and bookmarks will break unless you do something to redirect them properly. These broken links can have a negative impact on your website's SEO. Most modern content management systems have the capabilities to properly redirect (301 redirect) your URLs, but you should ensure this is happening properly or you could be hurting your rankings.
2. You haven't adopted proper file naming conventions
A common mistake that I see many users making is that they don't have file naming conventions for their website files. Generally speaking, I tell my clients to follow the following best-practices in their naming conventions:
Don't use filenames with dates or version numbers. Dates and versions numbers will change (see tip number 1), but the web should always be considered the most current version of a file.
Avoid spaces or special characters in file names. Use hyphens instead. This helps prevent issues when people copy/paste your links into emails or documents.
Use all lowercase. It's cleaner and more portable across systems should you ever need to migrate your website.
Be descriptive. It's okay to leverage what the file is about in the name (example: how-to-manage-websites.pdf)
Use a file numbering convention. For sites with many files, a numbering convention can help make it more clear which document is which. For example, if you have many datasheets you might have something like: ds25-maintaining-good-websites.pdf). The "ds25" part makes it crystal clear which document we're talking about.
3. You haven't considered image sizing
Have you ever resized an image within your CMS editor by dragging the resize handles? If so, you probably didn't realize that you're not actually physically resizing the image. You're simply just resizing how the image is displayed in the browser. The problem with this is that images are typically one of the largest assets on a page and using this technique doesn't physically alter the image. The whole image is still going to load, slowing your page down for your visitors. Instead, you should resize your images before placing them into your page. WordPress allows you to do this within their Media library by default, or you can use a desktop photo editing tool such as Photoshop or Irfanview to scale and crop your images before publishing.
Key tip: Be sure to lock the aspect ratio whenever you're resizing images. This prevents the image from becoming distorted.
4. You haven't been adding Title and Meta Descriptions for SEO
For many site managers, one of the primary goals is getting discovered within search engines yet this is one of the more commonly overlooked tasks. This text is like your free advertisement within the search engine results pages (SERPs). When you're creating new pages, don't forget to set your Title and Meta Description tags. Most website management systems have a place to manage this by default. If you're using WordPress there are SEO plugins that can help with this. One note: don't use the meta keywords tag for SEO. It may harm more than it helps.
These are just some of the common issues that we see on a fairly regular basis. If you have others to add, please let us know!